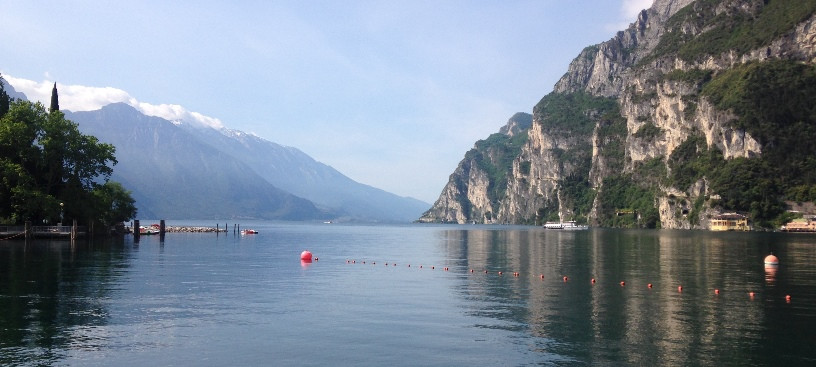 On my journey back from a recent holiday in wonderful Lake Garda in Italy, I pondered on the best way for writers to make the most of their travel experiences. When I went away, I was determined to take a proper, relaxing break (in other words, no writing). I think it's important to get completely away from time to time to give your 'writing self' a rest - and that's what I did in Lake Garda.
However, as every writer knows, being on holiday doesn't stop your mind from entering the 'information gathering' zone. As I wandered through the narrow streets of Riva del Garda, Sirmione, and Salo, I soaked up the sights, sounds and smells of this delightful area. Every time I bought a gelato (and that was often!) I savoured each mouthful – not just because they were so delicious (which they were), but because it was possible that one day I might write about the distinctive flavour of that liquorice ice-cream or the zingy taste of the lemon sorbet.
And even though I don't speak Italian, I listened carefully to the lively conversations that were taking place in the shops and cafes. I watched and marvelled at the fluency with which Italians use hand gestures to express their thoughts – sometimes so effectively that words aren't even necessary.
By observing the things that make Lake Garda so distinctive, I was able to make a mental note of key points that will add 'flavour' to some of the stories I am yet to write. It's inevitable that elements of my holiday will weave themselves into my work at some point or other. I may decide to write a story set in Riva del Garda, or I might write something in which ice-cream is heavily featured. :) Or maybe I'll create a character who is Italian – and I'll be able to make that person seem all the more real because I will endow him with some of the mannerisms I observed during my time in Lake Garda.
Which brings me to the crux of this post. The ability to observe - to pick up on details and really see things - is an important skill for writers, and one well worth nurturing. Even if you never travel beyond the boundaries of your own town, you can use your skills of observation to bring authenticity to your writing. Watch people: whether that's people you know or strangers you pass on the street. Look at the way they walk; listen to how they talk and what they say; take note of the clothes they wear and the way they style their hair; watch how they interact with those around them. Capture the essence of the people you encounter in life and use that knowledge to develop your fictional characters.
There are certain common characteristics that we all share. People enjoy reading about human nature and other people's lives. If you can populate your stories with believable, interesting or intriguing characters, your story is likely to be a winner.